The Italiano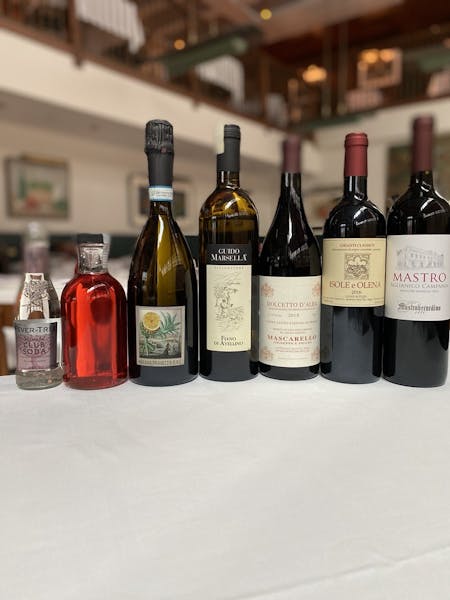 USC's wine program prominently features Italian wines to complement the many nods to Italy found throughout the menu. To kick off aperitivo hour, we've included everything you need to make our all-time favorite spritz featuring the wine-based aperitif, Cappelletti. We've also included refreshing and food-friendly whites and reds from three iconic producers representing Northern, Central, and Southern Italy.
About the Wine:
Cappelletti Spritz Kit (Ananas Prosecco, Cappelletti, and Soda)
Our favorite version of the classic Italian aperitivo. Directions: As easy as 3-2-1-enjoy! Pour 3 parts Prosecco, 2 parts Cappelletti, and 1 part soda over ice and stir gently.
Giovanni Almondo Roero Arneis Vigne Sparse
White
A long-time favorite of USC, medium-bodied, fresh, and fragrant. Notes of chamomile, citrus, and ripe pear.
Guido Marsella Fiano di Avellino
White
From the King of Fiano, an incredibly complex white with smoky minerality, wild herbs, and citrus.
Isole e Olena Chianti Classico
Red
Legends. This is pure Chianti Classico that showcases the beautiful fresh red fruit of Sangiovese with a bit of earthy tomato leaf.
Giuseppe Mascarello Dolcetto d'Alba
Red
The Mascarello Family, famous for their Barolo, also makes some of the most serious Dolcetto out there. With ripe blue and red fruit, this wine is perfectly balanced with plenty of acidity and grip.
Mastroberardino Campania Rosso Mastro
Red
Piero Mastroberardino is a longtime friend of USHG and happens to make some of the top wines of Southern Italy. This bottling shows a more approachable, immediately drinkable side of the noble Aglianico grape. Notes of blackberry, Violet, and Spice.